About WealthPress
Although a relative newcomer, Wealthpress has in recent years become one of the fastest growing financial publishers in the world. WealthPress offers weekly stock picks, webinars, courses, VIP trading, masterclasses, and 1:1 expert advice and they help educate people on how to navigate the markets and become better investors.
Target Demographics
- Individuals who have shown interest in capital markets, investing, finance.
- People who have visited and interacted with competitor sites in the FinPub space.
- Targeting the entire US with the top locations being New York, Boston and Miami
Objectives
- Increase brand awareness experts like Roger Scott and Lance Ippolito as well as expose new audiences to the WealthPress brand.
- Generate low cost email leads for multiple WealthPress products, building several profitable lists for future internal marketing use.
- Build sales funnels for each campaign with the aim to quickly convert visitors and leads into paying customers. The aim was to have a positive return on ad spend within the first 30 days.
Challenge
While they had lots of good products with impressive stats on internal promotions, WealthPress had tried their hands with external traffic campaigns multiple times, with no results worth mentioning.
Solution
On the first external campaign we did for Blitz Alerts, we identified a disconnect between the youthful excitement of Lance Ippolito and the more traditional 60+ financial services segment. We needed to introduce a younger market segment to Lance and his Blitz trades.
Result
The resulting YouTube video ad campaign managed to connect with this younger audience and to date these videos have had millions of views with a cumulative view time of over 60 years. More importantly, the campaign was profitable almost from day 1 and has remained consistently profitable for the better part of 3 years.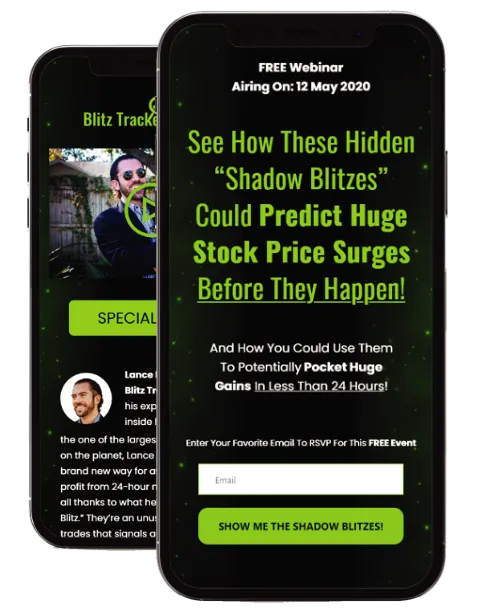 Challenge
Creating video ads that not only would get attention and keep people from clicking away. But also ads that would hit a younger audience that aren't necessarily on YouTube looking for help with their investment portfolio… yet get them to first click, then opt-in and then lead them towards a buying decision.
Process
The YouTube videos we write, record and produce are the foundations of our campaigns and where we always start. Based on these we create TikTok video ads, advertorials and display ads. All ads were monitored, improved and refreshed on a daily basis.
And all ads linked to one of our continuously optimized lead capture pages where our email marketing follow up campaigns were designed to create a profitable return as quickly as possible.
Solution
We decided to embrace Lance's natural energy and diverge from the more traditional suit and tie office look. The Blitz videos made heavy use of Lance's love of being outdoors and fishing. With a deliberate "hand held" camera on the beach look, these videos managed to resonate with the younger audience, selling them on Lance's lifestyle before selling them on his options trading service.
Result
The Blitz alert campaign is without a doubt the most successful and longest running YouTube marketing campaign ever seen in Financial Publishing.
The lessons learned in this campaign also became the starting template for countless other WealthPress campaigns that have in total resulted in $38M in profitable ad spend, over 800,000 leads generated and over $120M in new sales for WealthPress.
Challenge
Even the best ad and product will fail if you misjudge your target audience or send the wrong message to the wrong people.
Process
Our media buyers and data analysts are looking at the Oxford Club KPIs every single day. Shutting down underperforming ads and trying new audiences.
Having a tight cooperation with the copywriters has allowed us to be proactive and make necessary changes before any part of this campaign ever lost steam.
Solution
Our seasoned media buying team are experts at pairing the right ads with the right audience at the exact moment in time where they are most likely to take action and purchase.
Result
During the last 12 months the Oxford club has enjoyed an industry leading, low cost of less than $10 per lead on average. The TikTok campaigns alone have registered unheard of CPLs of less than $4 per lead.
And with over $100K in new revenue this campaign achieved the goal of reaching positive ROI within 30 days of lead generation.